How do I join the church?
Joining is straightforward. The only requirement for membership is a confession of faith in our Lord and Savior, Jesus Christ. If you belong to another church, you can transfer your membership to First Christian Church, Conroe. Those new to the faith will be baptized after their confession of faith. You do not have to be a member of First Christian Church, Conroe, to participate in Worship, or Sunday school, or to participate in the ministries and activities of the church.
How Do I Meet People?
First Christian Church is not a place for spectators. It is a place for team members. Whether you are a five-year old child, a ninety-five year old grandmother, a busy mom, or a businessman with big responsibilities, we want you to be a part of our vibrant church community. Here is how you can learn, serve, and grow at First Christian Church. Often, small groups of people are better able to interact and learn about a topic than larger groups are. For that reason, First Christian Church has small bible studies. Sunday school for all ages. Each class has its own format and individual course of study, using the Bible as its resource. Classes are for all ages. You are welcome to visit any class you choose.
Meet People in Sunday School each Sunday morning at 9:30 a.m.
Adventurers – led by Sarah Baxter Seekers – led by Joel Sinor
Youth and Children Ministry
Each Sunday morning, children get to participate in their own classes. Bible lessons are taught in such a way that every child gets to participate and learn. Sunday school classes for children begin at 9:30 am in the Children's wing for nursery through second grade. In the Family Life Center for all other ages. Nursery, infant through toddler Children's Wing, Pre-school and young elementary Gym, Older elementary through eighth grade
Meet people through our fun activities
The Cooking Club
Cooking Plant-based Foods
A group that enjoys cooking plant-based foods has recently formed. These chefs meet in the kitchen in the Family Center on the first Sat of the month at 5:00 pm. Each cook brings his/her ingredients, then chops, stirs, blends, stews, sautes or bakes the dish he has chosen to create. The group then shares the delicious results. Just a sample of food that has been enjoyed: black bean burgers, stuffed bell peppers, beets with greens, fried rice, spaghetti squash with a Mexican sauce and raspberry cheese cake. The group's goal is to get healthy, help the planet and have FUN. It's open to anyone who would like to try plant based cooking.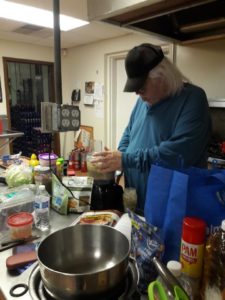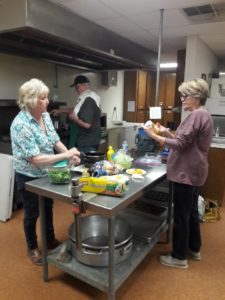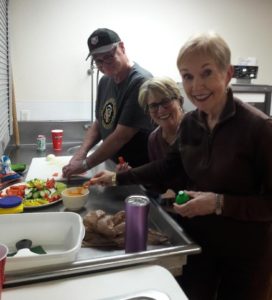 Meet people through Worship and Bible Studies
Chancel Choir and Chalice Bells Do you like to make a joyful noise to the Lord in song. The Chancel Choir rehearses every Tuesday night at 7:00 p.m. and sing each Sunday morning in the choir. The Chalice Bells practice every Tuesday night at 7:00 pm.
Meet People by helping with our church ministries
Food Pantry
The Food Pantry is open every Wednesday from 10:00 a.m. until 11:45 noon. First Christian Church serves people in zipcodes 77301, 77302, 77303, 77304 and 77306. Please bring identification each time you visit. Those who need food can come once a month for food.
What a joy to walk into the family center and see boxes and bags of food. The donation, organized by Tommy Moore, was from the 900 -member Texas Association of Sports Officials/Houston Football Chapter at their annual rules clinic. There is even a plan to make the food drive an annual event. What a great idea for any organization looking for an opportunity to support the community. Thank you, Tommy. Thanks also to Jane Moore and John Yates for getting it to the pantry.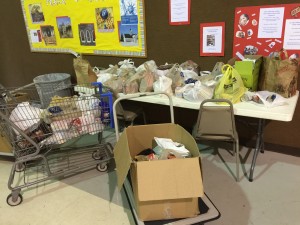 Soup Kitchen
Every Tuesday, a group from First Christian Church prepare food for those in need. This food is taken to the Salvation Army where they feed over a 100 each week. Volunteers cook the food at FCC, take it to the Salvation Army, serve the food, and clean up afterward. This group also helps with the Food Pantry by picking up and unloading the food from the Montgomery County Food Bank that will be distributed on Wednesdays.
Hug-a-Bears
A group of men and women meet every 2nd Tuesday of each month to cut out, design, sew and stuff 50 bears each month that will be taken to the Conroe Regional Hospital and Ambulance services to be given by medical personnel to those who need them. If you are interested in helping with this important ministry of First Christian Church, please contact the church office at 936-756-3554.
Alzeheimer's Support Group
Every third Wednesday at 2:00 pm in the Church Parlor, a group of people meet for support and knowledge as they care for their loved ones with Alzeheimer's. This group is led by Sarah Baxter. Please contact the church for more information.
Link your Kroger Rewards Plus Card to First Christian Church, Conroe
The Kroger Family of Stores is committed to bringing hope and help to local communities. We do this through a variety of activities, including charitable giving, sponsorships and the unique Community Rewards Program of Kroger. We are also committed to carefully protecting our customers' personal information. In order to meet their expectation of privacy, we have adopted a simple policy to never share a customer's personal information. Our privacy policy applies to Community Rewards participation as well. As your neighborhood food retailer, we deeply value our ability to support local organizations like yours.