You do not have to be a member of FCC to participate in service or fun activities!
How do I become a member of FCC?
Joining is straightforward. The only requirement for membership is a confession of faith in our Lord and Savior, Jesus Christ. If you belong to another church, you can transfer your membership to First Christian Church, Conroe. Those new to the faith will be baptized after their confession of faith. You do not have to be a member of First Christian Church, Conroe, to participate in Worship, or Sunday school, or to participate in the ministries and
activities of the church.
How Do I Meet People?
First Christian Church is not a place for spectators. It is a place for team members. Whether you are a five-year old child, a ninety-five year old grandmother, busy moms and dads, we want you to be a part of our vibrant church community. Here is how you can learn, serve, and grow at First Christian Church. Often, small groups of people are better able to interact and learn about a topic than larger groups are. For that reason, First Christian Church has small bible studies. Sunday school for all ages. Each class has its own format and individual course of study, using the Bible as its resource. Classes are for all ages. You are welcome to visit any class you choose.
Meet People in Sunday School each Sunday morning at 9:30 a.m.
Adventurers – led by Sarah Baxter
Each Sunday morning, children get to participate in their own classes. Bible lessons are taught in such a way that every child gets to participate and learn. Sunday school classes for children begin at 9:30 am in the Children's wing for nursery through second grade. In the Family Life Center for all other ages. Nursery, infant through toddler Children's Wing, Pre-school and young elementary Gym, Older elementary through eighth grade
Great Day Sunday Lunch after Worship First Sunday of the Month
The first Sunday of the month, there is a family lunch after Worship that we celebrate birthdays and anniversaries. Cake and beverages are provided. Members and Friends bring the food according to their Group number. Everyone is always invited and we hope you stay and enjoy this time with each other.
Meet people through our fun activities
The Cooking Club
Cooking Plant-based Foods
A group that enjoys cooking plant-based foods has recently formed. These chefs meet in the kitchen in the Family Center on the first Sat of the month at 5:00 pm. Each cook brings his/her ingredients, then chops, stirs, blends, stews, sautes or bakes the dish he has chosen to create. The group then shares the delicious results. Just a sample of food that has been enjoyed: black bean burgers, stuffed bell peppers, beets with greens, fried rice, spaghetti squash with a Mexican sauce and raspberry cheese cake. The group's goal is to get healthy, help the planet and have FUN. It's open to anyone who would like to try plant based cooking.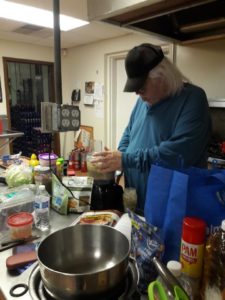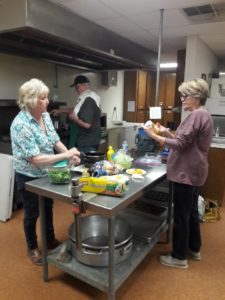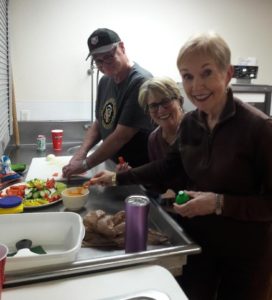 Meet people through Worship and Bible Studies
Meet people by singing in our choir or playing handbells
Chancel Choir and Chalice Bells Do you like to make a joyful noise to the Lord in song. The Chancel Choir rehearses every Tuesday night at 6:00 p.m. and sing each Sunday morning in the choir. The Chalice Bells practice every Tuesday night at 7:00 pm.
Meet People by helping with our church ministries
Food Pantry
Early one morning every week, a fully loaded truck and trailer, driven by FCC Volunteers, arrives from the Montgomery County Food Bank and pulls up to the Fellowship Center. Volunteers stop visiting, put down their coffees, and begin the unloading. Products are separated and distributed among four areas for bagging, boxing, and loading into grocery carts. At 10:00 a.m., the doors open and clients sign in to receive a cart full of groceries. Food purchases are made from the Montgomery County Food Bank with congregational funds and are accepted from other organizations including Keep Us Fed. This ministry began in a small room with a closet for food storage serving 15-20 families per month and now serves 300-350 families in the 77301, 77302, 77303, 77304, 77306 zipcodes (77305 are post office mailboxes). This ministry takes 25-30 volunteers.
Holiday Baskets

Volunteers begin planning in September for distribution of turkeys and side dishes to be distributed over two days in November. The volunteers apply for grants and prepare requests from the congregation. The list of items requested by the congregation is stapled to brown bags, along with a request for money for turkeys. The volunteers review/revise sign-up procedures, select distribution dates, and look for storage space for these additional food items. They look for the best turkeys with the lowest prices. By October, they search for additional volunteers for sign-up and distribution days. For several years, FCC has been preparing 120 baskets each November to clients. The need is great and the smiles are heart-warming
.
Salvation Army Lunch – FCC Soup Kitchen


Once every week, volunteers heat large amounts of food in the FCC kitchen, prepare sandwiches, and load all the required utensils, plates, drinks, etc. needed to provide lunch (sometimes for as many as 189 people) at the Salvation Army location in Conroe. The food is cooked in huge quantities once every couple of months and is frozen until needed. The cooking day is a sight to behold. FCC volunteers believe people should not go hungry and began this ministry in 1994 by Mattie and Gene Curry. Bobbie Harris is now the leader of the FCC Soup Kitchen.

Family Promise
FCC has a heart-felt interest in the area homeless population. From congregation funds, a monthly donation is made to Family Promise. FCC members have also volunteered directly with the organization.
Going Green
First Christian Church takes seriously man's stewardship of God's masterful creation, the earth and its inhabitants. With this responsibility in mind the weekly church newsletter features a "Going Green" tip. These tips have included the locations of recycling centers and the items that are received for recycling, conservation practices that impact the environment and the pocketbook, suggestions in dietary habits that make a difference in greenhouse gas emissions and the waistline, products that are manufactured from plastic waste and online sources for addressing climate change. Additionally, styrofoam plates, bowl and cups are gradually being replaced by compostable but disposable items. In many instances the use of real flat wear has replaced the use of plastic knives, spoons & forks. The goal of the newsletter tips is to raise awareness. We can all contribute to turning climate change around. A Native American proverb says, "Treat the earth well. We do not inherit the earth from our ancestors, we borrow it from our children."
FCC Book Club
First Christian Church Book Club meets every month on the fourth Thurs at 6:00 pm. At the meeting the group discusses the book that has been read that month. The selected books are all Christian non-fiction. Participants share in the selection of the monthly choice.
Some of the books read include The Last Girl by Nadia Murad, The Fisherman's Tomb by John O'Neill, Leaving the Witness by Amber Scorah, The Hiding Place by Elizabeth Sherrill, The Book of Joy by Douglas Abrams, Letters to My Palestinian Neighbor by Yossi Halevi, I'll Push You by Patrick Gray and many more. The club is open to all book lovers. We welcome suggested titles.
Annual Events
Annual Women's Christmas Luncheon. Tickets are $8.00 each. A different guest speaker from a service ministry each year.
Fat Tuesday Bingo
Annual Bingo night. Lots of fun, prizes, and food!
Veteran's Day Recognition Each year on the Sunday before Veteran's Day we honor our Veterans. We are thankful and proud of those who have served our country.
Children's Easter Egg Hunt
Church Family Thanksgiving Dinner Hope you will join us for dinner Thanksgiving 2020.
Link your Kroger Rewards Plus Card to First Christian Church, Conroe
The Kroger Family of Stores is committed to bringing hope and help to local communities. We do this through a variety of activities, including charitable giving, sponsorships and the unique Community Rewards Program of Kroger. We are also committed to carefully protecting our customers' personal information. In order to meet their expectation of privacy, we have adopted a simple policy to never share a customer's personal information. Our privacy policy applies to Community Rewards participation as well. As your neighborhood food retailer, we deeply value our ability to support local organizations like yours.