First Christian Church
3500 N Loop 336 West
Conroe TX 77301
Sunday 10:45 a.m.
Videos of FCC Services are now being posted to Youtube
You can watch the processed videos and subscribe to our YouTube channel at the following link:
FCC Youtube Channel.
Please remember you can make your weekly offering to First Christian Church by clicking the tab GiveOnline
Food Pantry
Our Food Pantry is open on Wednesdays from 9:00 a.m. to 11:45 a.m.
We serve zipcodes 77301, 77302, 77303, 77304, 77306
Worship begins at 10:45 a.m. each Sunday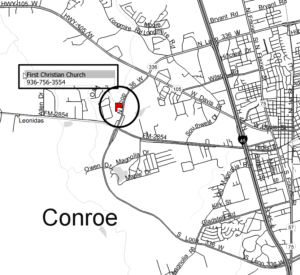 To Houston, Texas (South)